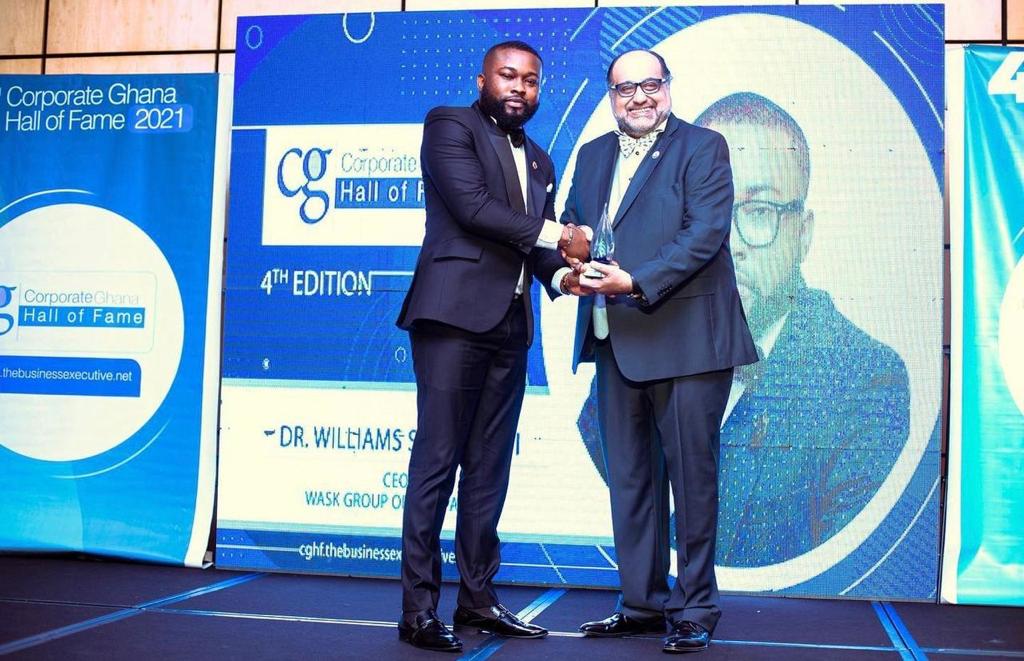 The Chief Executive Officer of Wask Group of Companies, Dr. Williams S. K. Anarfi is officially an inductee of the 4th Corporate Ghana Hall of Fame.
According to Dr. Anarfi, being part of the inductees is a great honour and a platform to contribute collectively to the growth of corporate Ghana.
He said, "Being among these eminent personalities, I am overwhelmed and it's an honour to be sharing my knowledge, skills, and experience with fledged and budding CEOs to find their feet well planted in the corporate world".
In an interview, he shared, "my vision is also to influence the youth and empower 1000s of people to know that they have the capacity to override every limitation by leaving their comfort zone, I am certain, that the youth of Ghana, will be elevated, and they can achieve everything that they put their mind to".
Aside from being inducted into the Corporate Ghana Hall of Fame, Dr Anarfi has also been appointed as the International Business and Trade Manager, "one of the commemorative consultancy firms in the United States, that want to bring investment from the diaspora to all over Africa. And currently we are working behind the scenes to work with the Ghana government to drive investments down with respect to health care, industrialization, finance and infrastructure development, and a lot. The impact that we bringing is phenomenon.
Talking about his induction he said," This opportunity has been given to me through this induction. I'm looking forward to exploring and bringing in a lot of investment opportunities by bridging the gap because my company also runs a consultancy firm, to be able to bridge the gap between the investors, the private and the government sector."
The induction ceremony organized by The Business Executive Limited inducted 18well-experienced members of the Ghanaian corporate community serving as role models.
Speaking to organizers, in collaboration with some partners such as the Ghana Investment Promotion Centre (GIPC), the Hall of Famers will ultimately formulate a binding constitution for the group. "The novel concept of Corporate Ghana Hall of Fame is an assembly of selected current and former Chairpersons of Boards of Directors and Top CEOs in Ghana's private and public business sectors who are, actively in management positions, retired or are nearing retirement, and whose accomplishments deserves to be recognized and celebrated for the future generations to honor and emulate them."
The inductees include: Mr Kwaku Bediako (Group Chairman, GH Group Ghana Limited),Adam Imoru Ayarna (Chairman, Cadesmee International CO. LTD), Mr Reuben Tetteh (Managing Director, Shotto Logistics LTD), Hon Hackman Owusu-Agyeman(Board Chairman, Ghana Cocoa Board), Dr Williams S.K, Anarfi (CEO,Wask Groupof Companies), Dhananjay Tripathi (Group CEO, Pharmanova Group of companies, Gopal Vasu (Managing Director, M & G Pharmaceuticals LTD, Mr Godwin Fafalin Setsoafia-Tukpeyi (CEO,Apex Health Insurance Limited, Baroness Lynda Abrokwa (CEO Lynbrok Company Limited) Mrs Joan Quaye- Mensah (CEO, Sixjays Homes) Mr Nouhad J. Kalmoni (Executive Director, Silver Star AutoLimited, Mr Richard K Atikpo (CEO, Lemla Group), Mr Isaac Osei ( Board Chairman, Intravenous Infusions PLC), Prof. Cosmas Cobbold ( Board Chairman, Jomoro Rural Bank Limited) Mr Jalal Kalmoni ( Group Chairman, Japan Motors Trading Company), Mr Daniel Adu Appea ( Board Chairman, Anum Rural Bank ) Parshotam Aidasani (Chairman, Jay Kay Industries & Investments LTD) and Hon Alfred Obeng-Boateng (CEO, Approaches Ghana LTD)
About Dr Williams S.K. Anarfi
The brain behind Trash Recycling and Management Organisation (TRAMO) & WASK group of companies. Dr. Williams S.K Anarfi is an outstanding Entrepreneur with a proven track record of success. He is the Founder and President of WASK Group, one of the fastest growing consultancy agencies in Ghana.
He was also Pioneer leader of Vida Divina LLC. in Ghana where he helped to improve the financial and health status of over 6,000 affiliates. With his passion to help the needy and the youth of Ghana, he carved the genesis of Vida Divina in Ghana. His positive attitude and charisma earned him and Vida Divina the above stated number of affiliates within a year. He is currently the Leader of Total life changes in Ghana and rejuvenated the re- birth of the business in Ghana. He has a rich and enviable experience in strategic innovation, business strategy and an in-depth expertise in SME advisory service, project financing and development. He is the founder and Chief Executive Officer of TRAMO GHANA, which specializes in waste management & Recycling of plastics into roofing tiles and pavement blocks, sale and installation of biogas digesters, waste sensitization training in senior high schools, tertiary institutions as well as Corporate Organisations.
He also handled the branch of Circle Link Innovation in Ghana. Dr. Anarfi is currently International Business and Trade Country Manager for Ghana for Blueprint Global Consulting Group; a bridge builder with a mission to engage, collaborate, and integrate to advance effective policies, industry, and business opportunities for the Americas (North, South, Central, The Caribbean) and Africa. A trusted intermediary for The Americas (North, South, Central, The Caribbean) and Africa, it fulfills its mission through a variety of services including public Social Media Handles: @drwask affairs, lobbying, international business and trade, advocacy, regulatory and government relations.
Dr. Williams holds satisfactory certification from the college of health sciences at the Kwame Nkrumah University of Science and Technology. In addition to his credit, he has a Professional Certificate in Strategic Management. He also has a certificate from Charisma University and American International Theology University (AITU) as an active member in recognition of professional standing and demonstrated competence.
Dr. Anarfi has established himself as a business network personality. He is also an Honorary Professor of the Academic Union, Oxford UK, an international academic association of over 200 University Chancellors, Scientists and Researchers. He also holds certificate from the department of international cooperation from the People's Republic of China for undertaking international Training Workshop on Photovoltaic System and Application with Yingli Solar at Baoding, China. He is also certified by American InterContinental University for pursuing Master Class in Leadership and Management.
As a health Practitioner, he also has the health of the citizens at heart, thereby setting up WASK Health Services, a Medical Equipment and Pharmaceutical product lines company. He uses the company to organize hepatitis B campaigns (screening and vaccination) in various institutions. This subsidiary has vaccinated over 1,000 people against Hepatitis B, supplied hospital equipment and materials, pharmaceutical production units and sale of detox tea and other organic products. He has built a state-of-the art hospital in Accra, Ghana. The project aims at promoting the health and well- being of the local population by providing accessible, high-quality medical care for people of all ages as well as providing services that will exceed the expectations of our patients, resulting in a successful and profitable business in Accra.
As a result of his hard work, he was bestowed the Innovator Award 2013 at KNUST during the Vice chancellor's award. He also spearheaded the United States Peace Corps Stars Project in Kumasi. He attained an Entrepreneurship award at the IPMATIC African Awards 2014. He was awarded the Best Network Marketer of the year 2018 during the Humanitarian and Business awards, which was held by Gymped.
He was also honoured as The Best Global Business Growth Influencer by the World Changers' Summit in Dubai in 2018. He received the Best Enterprise Award from the European Business Assembly and was appointed as the EBA Business Ambassador to Ghana and West Africa in Oxford, UK in 2018. He was on the team that designed the most current 40-year National Development plan for Ghana between 2014 and 2015.
As a son of Africa, he has great plans to use his corporate, diplomatic, personal network and influence to bring development to the continent through Social Media Handles: @drwask purposeful engagement to cause progress. He has a singular vision and mandate to put Africa ahead of every and anything.
In 2019, received an honorary award from Alleem Achievers Awards as the Brand Ambassador in Dubai. The International Corporation of Social Partnership (Europe Business Assembly) honoured him as the partner of the Europe Business Assembly in Oxford as a representative in Ghana and West Africa. He also received an honorary award from Charisma University and American International Theology University (AITU) as the African Innovative Merit Achiever of the year during the World Changer's Summit.
Former President of the Republic of Ghana; President John Agyekum Kuffour honored Dr. Anarfi as one of the most enterprising young CEOs in Ghana in 2020, He was also honoured by the Kumasi Leadership and SDG Awards Board for the difference he has made towards the achievement of SDG global vision, in Kumasi. He delivered a keynote address at the 4th Annual Water & Energy Congress in the UAE.
He was referred to as the "The Master Networker " in Africa by the Network Marketing Times endorsed by Eric Worre, the industry giant. He has single-handedly empowered and inspired; directly, virtually, and indirectly more than 20,000 young people in Africa.
He was honored as the best global business growth influencer by the World Changers Summit in Dubai in 2018. In 2019. He received an honorary award from Alleem Achievers Awards in Dubai as the Brand Ambassador