Welcome to WASK
Technologies
WASK Technologies is a software development company based in Accra, Ghana, and Switzerland. Our mission is to revolutionize the healthcare, e-commerce, and transportation sectors through innovative software solutions and hardware solutions.
Our flagship products include MyDr, a telemedicine platform where patients can do live video calls ewith doctors all over the world and also book ambulance services just like uber, E-Trade Afrika, a commodity e-commerce and fintech platform, and Wee Work, a transportation, delivery service and hardware products such as magnetic generator, self powered tv and aircondition.
WASK Technologies was founded by a team of experienced professionals in the software development industry. Our headquarters are located in Accra, Ghana, with a subsidiary in Switzerland. We are structured as a privately owned company and boast a talented team of software engineers, designers, and business experts who are passionate about creating cutting-edge solutions.
In the software development market, there is a growing demand for telemedicine services, commodity e-commerce platforms, and innovative transportation solutions. We have identified our target customers, including individuals seeking convenient healthcare services, businesses involved in commodity trading, and individuals in need of reliable transportation and delivery services. Through thorough market research, we have analyzed market trends, identified competitors, and assessed potential growth opportunities.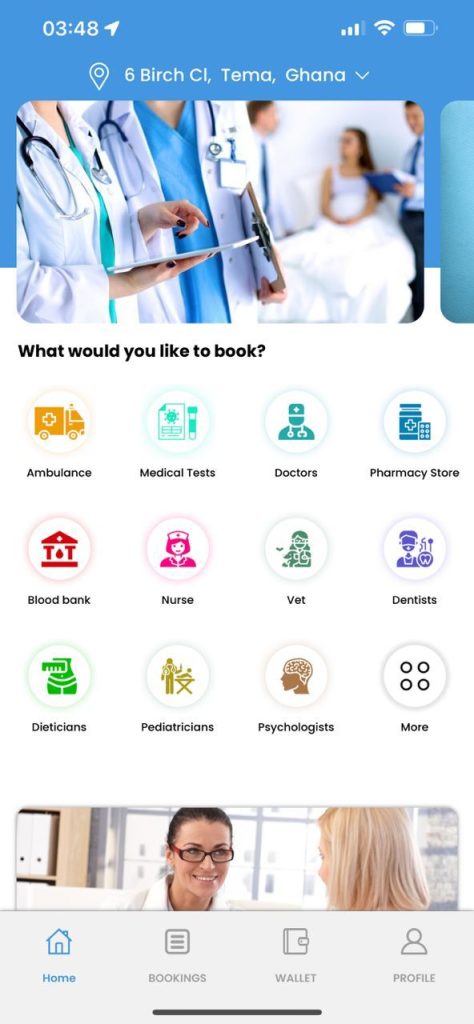 At WASK Technologies, our vision is to become a global leader in software development, empowering industries and individuals through innovative solutions. We strive to revolutionize healthcare, e-commerce, fintech, energy and transportation sectors by harnessing the power of cutting-edge technology. Our aim is to deliver seamless, user-centric experiences that enhance efficiency, accessibility, and convenience for our users worldwide.
By continuously pushing the boundaries of what is possible, we envision a future where our software solutions transform the way healthcare is delivered, redefine the e-commerce landscape, revolutionize financial technologies, and reshape transportation systems. We aspire to be at the forefront of technological advancements, driving positive change and creating impactful solutions that address the evolving needs of businesses and individuals.
Through our commitment to innovation, collaboration, and excellence, we aim to set new industry standards and inspire others to embrace the potential of software development. By leveraging emerging technologies, such as artificial intelligence, machine learning, and blockchain, we seek to redefine industry practices, optimize processes, and create transformative value for our customers.
As a global leader, we will actively pursue strategic partnerships, engage with industry experts, and collaborate with key stakeholders to collectively shape the future of these sectors. By staying ahead of the curve and anticipating emerging trends, we will lead the way in developing software solutions that empower industries and individuals, driving economic growth, fostering digital transformation, and improving lives worldwide.
Through our vision, we aim to leave a lasting impact on the world by revolutionizing healthcare, e-commerce, fintech, and transportation sectors, one innovative solution at a time.
At WASK Technologies, our mission is to develop transformative software solutions that revolutionize the way people access healthcare, finance, engage in e-commerce, and navigate transportation. We are dedicated to creating user-friendly platforms that prioritize convenience, security, and efficiency. By bridging gaps, improving accessibility, and simplifying complex processes, we aim to enrich the lives of our users and empower them to achieve their goals.
n healthcare, we aim to break down barriers to access by providing a telemedicine platform that allows patients to connect with healthcare professionals in real-time. Through our solutions, we aim to enhance healthcare delivery, improve patient outcomes, and increase the efficiency of medical services. By integrating features such as medication ordering, lab test requests, and ambulance bookings, we streamline the healthcare experience and ensure that quality care is easily accessible to all.

In the realm of finance, we strive to create innovative fintech solutions that offer a converged ethical "Open Banking" financial platform. Our products enable users to securely access a comprehensive range of banking features while enjoying the benefits of a marketplace. With a focus on compliance with regulations such as KYC, KYB, AML, and GDPR, we provide a secure and transparent environment for financial transactions, empowering individuals and businesses to manage their finances seamlessly.
In the e-commerce sector, we aim to simplify the buying and selling of commodities through our platform, E-Trade Afrika. By facilitating trade and connecting buyers and sellers of various commodities, including gold, lithium, diamond, flour, crude oil, aluminium, bauxite, and more, we create opportunities for growth and economic development. Our platform ensures compliance with regulations, enhances transparency, and streamlines the transaction process, fostering trust and efficiency within the marketplace.
Furthermore, we are dedicated to transforming transportation through our platform, Wee Work. By providing taxi services, on-demand deliveries, and various other services, we aim to optimize transportation experiences, making them more reliable, convenient, and accessible. Through our platform, we connect users with trusted drivers and enable seamless transactions, enhancing mobility and improving the delivery of goods and services.
In all our endeavors, we remain committed to user-centric design, delivering solutions that simplify complex processes, enhance convenience, and provide a secure environment for users. We strive to exceed customer expectations, embrace emerging technologies, and collaborate with industry stakeholders to shape a future where accessing healthcare, managing finances, engaging in e-commerce, and navigating transportation are effortless, efficient, and empowering experiences.
©2023. Wask Group of Companies